Honda Leads Cars.com 2020 American-Made Index with 3 of the Top 10 Models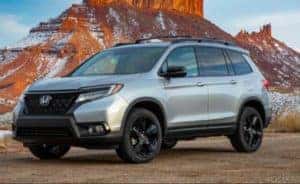 Honda Odyssey, Ridgeline, and Passport make top 10
Almost two-thirds of Honda automobiles sold in the U.S. are made in America
Ohio-made Acura RDX and MDX luxury SUVs make top 20
Three of the top 10 models are produced at Honda's manufacturing plant in Alabama
Three Honda models made the top 10 in the Cars.com 2020 American-Made Index, with seven ranked among the top 20 — more than any other automaker. The Honda vehicles making the top 10 are the Alabama-made 2020 Honda Odyssey minivan, Ridgeline pickup, and Passport SUV. In addition, the Honda Pilot ranked 13th and Accord ranked 15th. Two Acura models also made the top 20 with the Ohio-made Acura RDX and MDX luxury SUVs placing 14th and 17th, respectively.
Nearly two-thirds of the Honda vehicles sold in the U.S. in 2019 were made in the U.S., at its plants in Ohio, Indiana and Alabama, the second-highest percentage of all automakers for the share of vehicles that were built and sold in America. Over 98 percent of all Acura models sold in the U.S. last year were made in Ohio, with the RDX and MDX also designed and developed in the U.S. by Honda R&D Americas, Inc.
Each of the three Honda models in the top 10 of the 2020 American-Made Index was designed and developed by Honda R&D Americas and is produced exclusively by Honda Manufacturing of Alabama in Lincoln, Alabama.
"For more than 40 years, Honda has been committed to building products close to our customers here in the U.S., and we're proud to have three Honda vehicles among the top 10 in the Cars.com American-Made Index," said Rick Schostek, executive vice president of Honda North America, Inc. "Honda's commitment to local production would not be possible without the teamwork and contributions of the nearly 23,000 Honda associates who build our vehicles in the U.S. and our more than 600 American supplier partners."
In 2019, Honda produced more than 1.2 million cars and light trucks in the U.S. and purchased $27.7 billion in parts and materials from U.S. suppliers.
Cars.com assesses several factors for the American-Made Index: location of final assembly; percentage of U.S. and Canadian parts; country of origin for available engines; country of origin for available transmissions; U.S. manufacturing employees relative to the automaker's footprint. More information about the "Cars.com 2020 American-Made Index" can be found at www.cars.com/american-made-index.
Ranked Honda Vehicles
2020 Honda Odyssey (Lincoln, Ala.) — 5th place
2020 Honda Ridgeline (Lincoln, Ala.) — 6th place
2020 Honda Passport (Lincoln, Ala.) — 7th place
2020 Honda Pilot (Lincoln, Ala.) — 13th place
2020 Honda Accord (Marysville, Ohio) — 15th place
Ranked Acura Vehicles
2020 Acura RDX (East Liberty, Ohio) — 14th place
2020 Acura MDX (East Liberty, Ohio) — 17th place
Honda Manufacturing in the U.S.
Honda's U.S. manufacturing operations were established in 1979, with the start of motorcycle production in Marysville, Ohio, followed in November 1982, by the start of automobile production at the newly established Marysville Auto Plant.
Today, Honda has one of the largest and most diverse U.S. manufacturing footprints of any international company operating in America, employing nearly 23,000 associates at 12 plants with the capacity to produce more than 1.2 million automobiles, 3.5 million engines, 500,000 power equipment products and 300,000 powersports products annually. Honda and Acura products made in the U.S. use domestic and globally sourced parts.
In 2019, nearly two-thirds of the Honda and Acura automobiles sold in the U.S. were made in America, and Honda's cumulative U.S. automobile production now exceeds 27 million vehicles.
Honda also manufactures the HondaJet advanced light jet and GE Honda HF120 turbofan engines in America. Cumulatively, Honda has invested more than $21 billion in its U.S.  manufacturing operations, including more than $5.6 billion over the past five years. The company also works with more than 620 U.S. original equipment suppliers, with U.S.-sourced parts purchases of $27.7 billion in 2019 alone. Learn more at https://hondainamerica.com/.